Dental Crowns in Tyler, TX
If you're experiencing an infected or broken tooth, a dental crown (also known as a dental cap) can help you feel better and preserve both the functionality and appearance of your smile. This facet of restorative dentistry also comes in handy for those with dental implants who may need their crown restored. It can also be used for cosmetic purposes. No matter what the case may be, Dr. Ashley Laird and our team will help you achieve a smile that you can feel confident in. Contact us today to schedule your porcelain crown consultation!
Restore Your Smile
Financial Information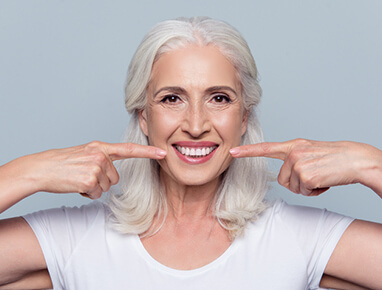 The Dental Crown Process
The process varies depending on the state of the tooth receiving the crown. Typically, the procedure takes two visits to ensure that the fully customized crown fits in seamlessly with your smile. At the first visit, our team will examine the tooth under question to ensure that it is in good enough shape to receive the crown. If it's not, we may either file the area down, use a filling to add density to the area, or a mixture of both. Once the tooth is prepared for the crown, we'll take impressions of your teeth so that we can customize your permanent crown to your exact bite. Until the next appointment, we'll fit you with a temporary crown that will protect the tooth in the meantime. The next appointment entails bonding the crown to your natural tooth and educating you on the proper techniques for caring for your restoration.
---
Dental Crowns FAQ
What are dental crowns made of?
We usually use a tooth-colored composite resin that allows us to match your crown to the exact shade of your smile. However, crowns can be made from a number of other materials. These materials include metal alloy, ceramic, steel, resin, and more. Which type of crown you get all depends on which tooth is receiving the crown, your budget, and what Dr. Laird thinks is best for your long-term oral health.
How to care for your crown restoration?
For the first week or two after your procedure, carefully brush and floss around the area as it may be sensitive. Once healed, you should treat your crown just like your natural teeth: brush two times per day for two minutes each time and floss once per day. With proper care, your crown could very well last you up to fifteen years or more.
Are tooth crowns affordable?
It's difficult to pinpoint an exact price for dental crowns as each instance is just as unique as the patient. When you schedule a consultation with us, we'll be sure to go over all your options and give you an accurate estimate of your costs. In the meantime, check out our financial page for more information.
---
Get back to a healthy, beautiful smile. Schedule your next appointment today!
Feel Better, Look Better, Be Better