Dental Sealants in Tyler, TX
Dental sealants are quick, inexpensive, and comfortable preventive dental treatments that patients can add to a routine dental visit to protect their smiles from cavities. If you are concerned about developing tooth decay or want to set your child up for positive oral health from a young age, ask our team about dental sealants as well as our other preventive services. We'll do what we can to help you have the healthiest smile possible!
Contact Us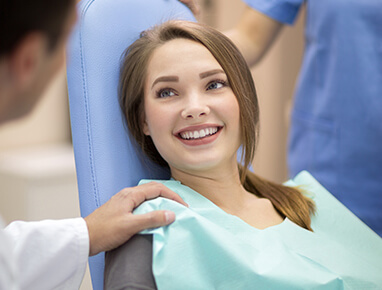 What are dental sealants?
Dental sealants are clear coatings that are applied over the top of each molar to prevent harmful bacteria from collecting in the grooves of the teeth. These areas are difficult for many patients to clean properly with a toothbrush, and sealants act as an invisible barrier that helps prevent tooth decay from developing in molars. Dental sealants are ultra-thin, so patients do not feel them on their teeth at all, and they are only noticeable to dental professionals who examine teeth during dental visits.
---
Who should get dental sealants?
Dental sealants are a popular preventive dental service for children. A child's first set of molars typically comes in around age six, so an initial dental sealant application can be scheduled around this time. The second set of molars usually comes in around age 12, and this is when a second treatment may be recommended. However, patients of all ages can benefit from having dental sealants placed over their teeth. Dental sealants, combined with a thorough at-home oral care routine and regular dental visits, can be an excellent way to prevent decay at any age.
Are dental sealants covered by insurance?
Many dental insurance plans cover dental sealants for children, and some offer full or partial coverage for adult patients as well. Fortunately, dental sealants tend to be a budget-friendly dental service even for patients who are uninsured or are paying out-of-pocket. Dental sealants can also last anywhere from 7-10 years, making them a great investment for patients looking to avoid costly restorative services. For financial questions and additional information, we recommend visiting our financial page or contacting our front office.
Contact Us