High-Quality Dentures in Tyler, TX
At Ashley Laird, DDS, we offer high-quality full and partial dentures to replace either a few missing teeth or an entire row. We understand the impact an undesirable smile can have on your daily life. With improved technology and techniques, dentures are more natural-looking and comfortable than ever before. If you would like to discuss your options, please schedule a consultation with our friendly team today!
Restore Your Smile
Financial Information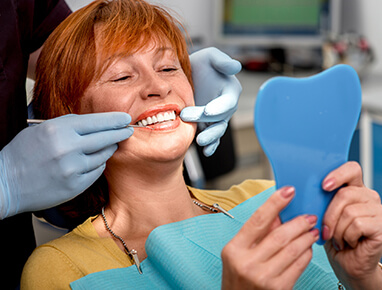 Dentures Process
Creating new dentures and placing them takes place over a series of a few appointments. First, we'll schedule an initial appointment where we will thoroughly inspect your jawbone, gum tissues, and oral hygiene. Once we've determined that you're a qualifying candidate for dentures, we will take several impressions that capture how your jaws fit together. These impressions will be sent to an off-site lab where your custom dentures will be created. Once we receive these, we will check them for fit, shape, and shade, then make any necessary adjustments. A follow-up appointment may be scheduled to see how your mouth is adjusting to the new addition.
Cost of Dentures
Each patient has unique dental needs and the cost of treatment ranges. During your initial consultation, we'll create a personalized treatment plan and provide you with an estimation of a full cost breakdown. Our team is committed to providing each patient with high-quality, reasonably priced dental care and we go to great lengths to meet your budgetary needs. Please speak with a member of our team to explore all of your financial options.
---
Dentures FAQs
How should I care for my dentures?
Your dentures should be soaked in water or a denture-safe solution when they are not in your mouth. After eating, your dentures should be removed and rinsed to eliminate any remaining food particles. Additionally, brush your dentures at least once daily.
Will I need to undergo denture repair?
With proper care, your dentures can last up to 10 years or more. Over time, our mouths change and dentures may require minor adjustments to accommodate these changes. Getting dentures inspected every six months promotes a proper fit and extended lifetime.
Will my false teeth look natural?
Absolutely! Our expert team is capable of matching your false teeth to the exact shade, shape, and size of your natural teeth. Our number one goal is to provide you with a smile that looks and feels natural for you.
---
Get back to a healthy, beautiful smile. Schedule your next appointment today!
Feel Better, Look Better, Be Better