Routine Dental Exams & Cleanings in Tyler, TX
One of the best ways to maintain great oral health is to attend regular dental exams and checkups to ensure your mouth is in tip-top shape. According to the American Dental Association, you should visit the dentist at least twice a year to get an exam, cleaning, and X-ray (if necessary). Our skilled, friendly team takes this time to check for any potential dental issues and thoroughly clean your teeth. The goal is to catch any problems before they become more serious and costly. Are you overdue for a dental checkup? Contact our office to schedule yours today!
Contact Us
Financial Information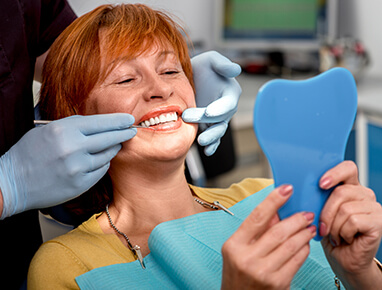 What to Expect
Dental exams and cleanings are like a wellness check for your teeth and gums. If you haven't been to the dentist in a while, you may feel a little uneasy, and that's okay! We'll walk you through the process so you can feel at ease knowing what to expect during your visit.
When we call you back for your appointment, we'll start by taking any necessary X-rays. We usually like to get a new set of X-rays once a year to check for any developing dental problems. After a few quick X-rays, we'll show you to your seat and chat about any dental concerns you may have and what you've been up to since we saw you last! Then, one of our skilled dental hygienists will perform a professional teeth cleaning. It's not uncommon to miss certain spots when you brush and floss, so cleanings give us a chance to remove any plaque and tartar buildup. Once we remove any debris, we'll polish your teeth to give them a pearly sheen.
After your cleaning, Dr. Ashley Laird will look over your X-rays and thoroughly examine your smile. If we see any cavities, we may even be able to remove the decay and place a filling during your visit so you don't have to make another trip!
---
The Benefits of Preventive Dentistry
Boosts Overall Health (The Health of Your Mouth & Body Are Linked)
Saves You Money By Avoiding More Complex Procedures in the Future
Prevents Cavities, Decay & Gum Disease
Keeps Your Teeth Clean & Bright
Freshens Your Breath
Schedule Your Appointment
---
Frequently Asked Questions
How often should I have a regular dental exam?
You should have a professional teeth cleaning once every six months. This allows our team to accurately monitor your dental health and catch any problem areas before they become larger issues.
What dental health issues can be diagnosed in a regular exam?
All of them! Each time you visit us we'll check your teeth and gum health. We'll also perform an oral cancer screening during your dental cleaning. Whether you're suffering from bruxism (teeth grinding), you have a cavity, or you're developing gum disease, we'll notice it during your dental exam.
How should I prepare for my dental exam?
You can prepare for a dental exam by maintaining a comprehensive dental hygiene routine at home. A proper at-home dental routine, including brushing, flossing, and rinsing with a fluoridated mouthwash, is the best way to avoid unexpected issues at your dental exam.