Gentle Root Canal Therapy in Tyler, TX
If you have severe tooth pain from an infection, a deep cavity, or an injury, you don't have to lose your natural tooth. The team at Ashley Laird, DDS can provide gentle root canal therapy to clean out the infected or damaged pulp, relieve your pain, and save your tooth. Our top priority is to ensure that you have a healthy smile for years to come, so if you have a bad toothache that won't go away, contact us so we can get to the root of your problem.
Contact Us
Financial Information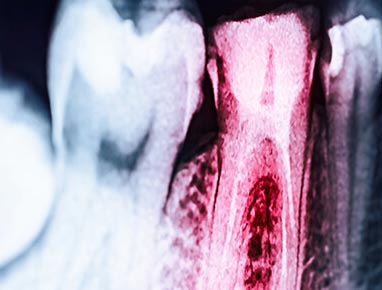 The Root Canal Process
When you come in to see us because of tooth pain, we'll start your exam by taking some X-rays. Our digital X-rays allow us to get a good look at the inside structures of your teeth and pinpoint where the pain is coming from. We will also visually inspect the area before determining if a root canal is right for you. To start the root canal process, we'll numb the immediate area thoroughly so all you feel throughout the procedure is a little bit of pressure. We'll isolate the tooth and make a small hole in the crown (the part that's visible). This lets us get into the root canals of the tooth to clean them out. We will remove the damaged or infected tooth pulp and fill the space with a medicated solution to kill off any remaining bacteria. To finish the root canal treatment, we'll either place a filling in the tooth to close it up or get you fitted for a natural-looking
dental crown.
These help keep out bacteria to prevent future infection and give your tooth extra strength.
---
Root Canal FAQs
Do I need a root canal?

Patients who are experiencing severe tooth pain for an extended period of time may need a root canal to remove any infection or decay and relieve the pain. Signs you may need a root canal include:

Severe toothache
Swelling nearby or tenderness in the tooth or gums
Pain with pressure or chewing
Sensitivity to temperature, especially if new
Prolonged tooth sensitivity
Discoloration of the tooth

Does a root canal hurt?

Root canals have a reputation for being painful, but we've found that the pain in the tooth is worse than any mild discomfort felt during the procedure. Before we begin, we numb the immediate area, and we always work at a pace that's comfortable for you. If you need a break or need more anesthesia, just let us know!

How much does a root canal cost?

Your budget is important to you, so we make it important to us, too. In order to make sure you get the care you need for your smile without breaking the bank, we offer a number of financial options. Our office is insurance friendly, accepts CareCredit®, and has in-house payment plans available. Speak with a friendly team member to learn more about your options!
Schedule Your Appointment