Dental Veneers in Tyler, TX
Are you tired of looking at your smile in the mirror or in photos and only seeing imperfections? Dental veneers offer a way to improve the appearance of your teeth, whether you need a couple of subtle fixes or you want a complete transformation.
The dental veneers procedure involves bonding super-thin shells or layers of tooth-colored material to the outside of your teeth. We can adjust tooth size, shape, spacing, and color — it all depends what you want your dream smile to look like! Contact our dental office today to schedule a consultation and design your perfect smile.
Request Consultation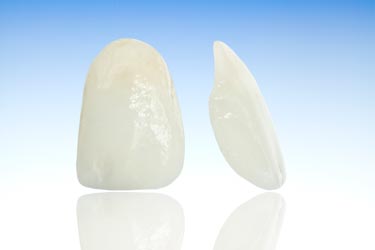 Dental Veneers Pros & Cons
One of the main advantages of dental veneers is how versatile they are. You can fix cracked or chipped teeth, cover severe discoloration, correct uneven tooth length, replace worn down enamel, and adjust minor spacing issues. More benefits include how dental veneers match the appearance of natural teeth and how they're resistant to stains.
Since a minimal amount of enamel removal is necessary to place the dental veneers, it's a permanent procedure, which can be a pro or a con depending on how you look at it. That's why we always make sure our veneers patients have all the facts before going through with the procedure. With the right care, they'll last you around 10 to 20 years.
---
Cost of Dental Veneers
You may be completely sold on the possibilities with dental veneers, as long as the cost is right. We understand! Price is a big factor for many of our patients. Unfortunately, we can't give you a cost estimate until we know more about your overall oral health and come up with your personalized treatment plan. There is so much customization that goes along with dental veneers so the price can vary widely depending on how many teeth are being treated and how extensive your makeover is.
All that being said, we will absolutely let you know the cost of your dental veneers treatment before ever beginning the procedure so you won't face any surprises. We also do everything we can to help make dental veneers more affordable, including offering financing options.
Contact Us