Invisalign® Clear Orthodontics in Tyler, TX
If you want to get a straighter smile without the hassle and, let's face it, unsightly look of conventional braces, Invisalign clear aligner therapy could be for you! Dr. Jackson and our team can use Invisalign to correct mild to moderate spacing, crowding, and alignment issues. Our patients love Invisalign for many reasons, including their clear color, removability, and faster treatment time. Visit us for an Invisalign consultation to find out if this orthodontic option is right for you!
Contact Us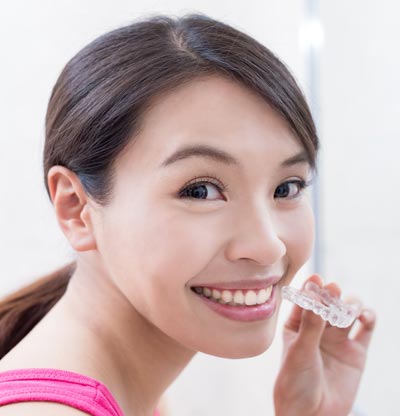 How Invisalign Works
Unlike traditional braces that pull on teeth to move them into new positions, Invisalign gently pushes teeth. The system uses a series of clear aligners to ease teeth where we want them to go.
To start your treatment, we bring you in to take impressions of your teeth as they currently are. We also work with you to design your dream smile. The lab uses the impressions and smile design to create your series of aligners. Each aligner is designed to move your teeth a little bit more. Wear each set for about two weeks and then switch to the next set. You'll visit us every four to six weeks so we can check on your progress and give you your next sets of aligners. In an average of about a year, you'll have a straighter smile.
---
Benefits of Invisalign
Clear aligners are barely noticeable
Smooth plastic material won't cut or irritate lips, cheeks, or gums
Removable aligners mean you can eat, drink, brush, and floss like normal
Average treatment time is shorter than metal braces
---
How Much Does Invisalign Cost?
We understand that one of the first things you'll wonder about is the cost of orthodontic treatment, but we don't want financial concerns to keep you from your dream smile. Before we begin treatment, we'll go over your expected out-of-pocket costs as well as the payment options available to you. You won't be caught off-guard by unexpected costs. We will work with you and your budget to ensure that you get the care you need and deserve.